accident and personal injury lawyers advocating for people in St. Louis, Missouri, Illinois and the surrounding areas
The laws are constantly changing. You must have an attorney like Donna Clark Frayne who keeps up with changes that could somehow affect your case.
Donna Clark Frayne is a personal injury attorney in St. Louis, Missouri. She has won some of the most distinguished awards and recognitions a lawyer can achieve. Her hard work and the dedication she shows all of her clients is what makes her stand out from other law firms.
Donna was born and raised in St. Louis, and has dedicated her life to helping the people of St. Louis, and the surrounding areas, receive the compensation they deserve, and has helped her clients recover millions of dollars in damages. Her knowledge and dedication has helped her become one of the most trusted and respected personal injury attorneys in St. Louis, Missouri.
Donna handles an extremely wide range of accident and injury practice areas but some of her most well known areas include: car accident lawsuits, motorcycle accident lawsuits, wrongful death cases, and workers' compensation cases.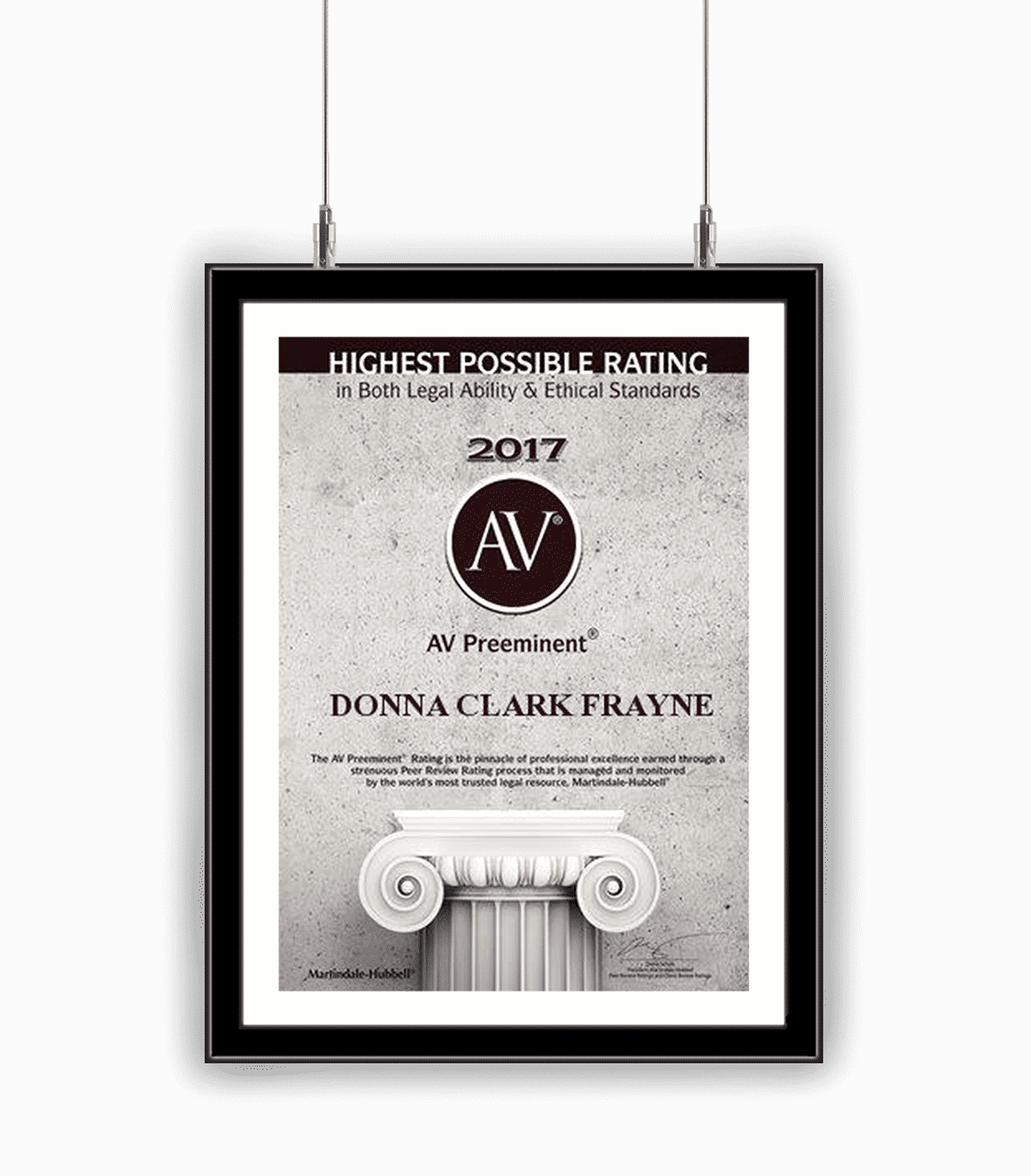 WHY HIRE DONNA CLARK FRAYNE AS YOUR ST. LOUIS INJURY ATTORNEY?
Millions of dollars recovered for clients
No fee until we win your case
We will come to you
Evening and weekend appointments
accident & injury attorney with experience in a broad array of injury scenarios in St. Louis, Missouri and the surrounding areas
Although no two injury events are exactly the same, there are commonalities. So, it's also important for the attorney you choose to have experience managing cases that have dealt with your type of accident and your type of injury. Donna Clark Frayne is one of the most experienced personal injury attorneys in St. Louis. Our practice in St. Louis regularly handles cases in Missouri and Illinois involving:
more accident & personal injury services
We win cases other attorneys turn down. with donna clark frayne,
every client matters.
protecting the injured
The Law Office of Donna Clark Frayne is a personal injury firm in St. Louis that represents injured parties in Missouri and Illinois in all types of claims, from motor vehicle accidents to medical malpractice to workers compensation. Firm principal Donna Clark Frayne, a caring accident attorney with more than 20 years of litigation experience, is particularly skilled in handling cases involving catastrophic injury and significant losses. She is happy to come to you if you cannot come to our office.
award-winning personal injury attorney
Donna Clark Frayne is AV® Preeminent™ Peer Review Rated by Martindale-Hubbell®, the national lawyers' directory, which attests to her excellent legal skills and adherence to the highest ethical standards. As a dedicated personal injury lawyer, she's well-respected by her peers for her professionalism and by her clients for her compassion and diligence. Her hard work and dedication to her clients has given her the title as one of the most powerful personal injury lawyers in St. Louis.
donna clark frayne is an
award winning personal injury attorney

in st. louis who dedicates herself to her clients. Click here to setup your free consultation with Donna.
The Law Offices of Donna Clark Frayne provides professional legal services for the people of St. Louis, Missouri and the surrounding areas. When you hire Donna you are guaranteed:
COMPASSIONATE LEGAL REPRESENTATION
We empathize with your pain and suffering and do our utmost to relieve the stress you are experiencing. Most parties involved in personal injury cases have not had any prior dealings with the legal system. The claims process can be complicated and stressful, especially as insurance companies take advantage of your inexperience at every opportunity. When you retain our services, you can focus on recovering from your injuries, rather than arguing with insurance adjusters. Rest assured, as your accident or injury attorneys we know all their tricks and will not back down.
Experienced Case Management
Donna has more than 20 years of litigation experience as a personal injury attorney helping accident victims obtain compensation for their losses. Her first jury trial was only two weeks after she passed the Missouri Bar Exam, and she won. Donna has tried hundreds of cases throughout her career. Donna personally manages every aspect of your case from the start to its successful conclusion. There is no personal injury case too big or too small for Donna.
Accessible legal representation
Our firm believes in close counsel and frequent communication. If you are in the hospital or bedridden at home, we can visit you there. While your case is pending, we keep in touch by mail, phone, e-mail or text messaging.
start your free consult with Donna